After getting through lots of
mockeries, satires,
and all, I realized that there are still many people out there who love me and care of me because
I have been who I really am, and I do not transform myself into someone who I am not.

They love me because I have been the real Rafael Alfonsus Andreas Winfrey. They accept me whatever I do, whatever I look like, whatever I say, whatever I blog, whatever I whatever.
Yesterday, I got my encounter class, and when my teacher checked my manual
book, he asked me, "Ow, you haven't done this one?"

I looked at it and answered, "Oh yea, I didn't do it because I thought It was "just for
fun" section, and It is not a mandatory to do, so, ermm.. yeah, I didn't do that
one."

He take off his eyeglasses and look at me. He said, "Do you know what is
the most important thing in life?"

And I was like, "Errmmm.. I don't know..." I bit my lower lip.

And then he asked another student, and those student answered, "Erm,
Happiness, I think.."

"Exactly!" He exclaimed. "Now, Andreas, how old are you?"

"Seventeen, Sir!"

"Okay, How long will you be seventeen then?"

"A year?"

"Yes, a year! When is your birthday?"

"The seventh of August, Sir."

"Okay, so less than 6 months, you won't be 17 anymore, right? This moment,
this 17 moment is a perfect moment for you to get those happiness! You won't be 17 anymore after the
7th of August. So do whatever you wanna do! Do for you happiness!! Do anything just for fun!"

And after that, I did the "Just for fun" homework.
What my teacher said left me wondering. He agreed that the most important thing in life is happiness. And 17 is the perfect moment to get the perfect happiness. So, connecting to the case that Iam struggling with:
I blog because I love to do it. I blog because everytime I publish a new post and get lots of comments from lots of my readers, and satisfied with the numerous number of my blog's visitors, I get that happiness. This blog makes me happy. And my blog's lovers perk me up and reassuring me.

As most of you already know that I have been hated by some people, especially in my school, for like about more than anyone could imagine. They love to turn me down, they love to make fun of me, they love to mock me, but you know what, they
failed
. Their words don't even reach my outer ears.
One of my teachers whom I adore and respect so much once came up to me, and asked me, "Andreas, I salute you because you are still able to keep on remaining cool and still be able to smile after getting through all this, eventho people love to mock you and turn you down. How could you do that?"
And then, I smiled.
Last year, when I was choosen to be The Ketua Osis (Students Body President),
People hate me evenmore. They loved to mock me even more often, deeper, and more excruciating.
But hey,
I have learnt how to close my ears, my eyes, how to take a deep breath and exhale it. I have learnt how to remain cool and stand still in the middle of mockeries and haters.

After this blog getting more famous than I thought it would be, here came lots and lots and lots of
haters
. They love to throw stupid and torturing comments. They seem like they don't like whatever I do,whatever I blog. They don't even like me because I have been who I really am. They don't like me sharing my life with my friends through my blog.
It is like, if you don't like reading my blog, why would do read my blog again and again and again? Remember this, I have been myself, whether you like it or not. And I am not changing.

And I am not such a coward chicken who hides behind the "anonymous" name.
But thank you, you made me even tougher.
I love you, my haters
. Really.
And it is like, you know, I started to wonder:


I am famous because people hate me, or people hate me because I am famous?


Better think it later.

So back to the topic, I changed my Facebook status to know what people think about me, and surprisingly, I got some supporting comments: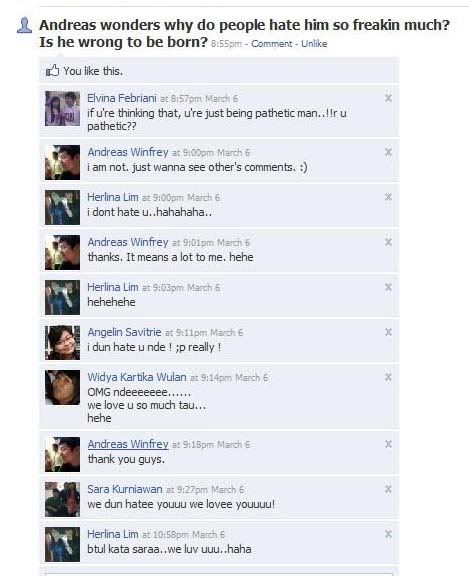 Seems like I am not wrong to be born, because somehow,
I have been helping people to make their lives evenmore meaningful. And seems like I am not disgusting as well. And from our point of views, we think that someone out there is the disgusting one.
"Let go" is the ultimate mantra.
I am not falling into this stupid valley, and I will keep on being myself,
keep on blogging
, and
I don't care at all whether you like it or not
, because
my loved ones wants me to keep on being my self
, being who I have been. And why would I change myself into someone I don't know and make my loved ones dissapointed just because this
"perfect"
people?
I thank you for giving me such a deadly comments because I can get tougher and you guys make my life even more colourful and believe it or not, I am trying so hard to be a better person, but still being myself.
Ogh, I LOVE YOU MY HATERS!!!